New cookbook from British-Israeli chef Yotam Ottolenghi and British-Palestinian chef Sami Tamimi highlights the common experience between Palestinians and Israelis in modern Jerusalem, according to this article on NPR. Ottolenghi, the owner of a few restaurants in London, and Tamimi, a partner in the company and its head chef, have partnered to show that "if there's one place in which Jerusalemites of all stripes still stand united, it's in their love of food."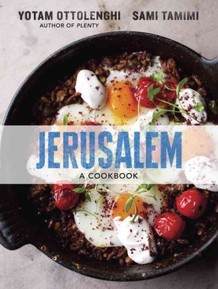 I love the cross-cultural approach to the cookbook, and look forward to taking a closer look at it. I wonder if chefs still in Jerusalem – not expatriate chefs who have worked together for years in London – could undertake a project like this. Are there cooking communities in Jerusalem that include both Palestinian and Israeli cooks? Are there any cross-community restaurants? Would love to hear about such a thing, if it exists.
As an aside, the age-old hummus debate will always remind me of this classic scene from the Sacha Baron-Cohen movie, Brüno.