This website is meant to be a resource for students, academics, and professionals in a variety of fields — not just focusing on culinary diplomacy, but on cultural and public diplomacy, food studies, culinary history, communications, nation-branding, and more.
Through essays, blog posts, and podcasts, we delve deeply into the many fascinating issues that make up this understudied area. If you're new to the topic, check out the Back to Basics podcast, or some of the early blog posts.
---
This is the work of Sam Chapple-Sokol, a research consultant and culinary diplomat who has consulted on academic courses at American University and George Washington University, as well as for Le Club des Chefs des Chefs, the Club of Chefs of Heads of State.
---
Sam has spoken on panels and at conferences at the Fletcher School of Law and Diplomacy, the International Association of Culinary Professionals Annual Meeting, and at the Protocol Officers Association Conference, as well as on The Splendid Table.
---
Sam has also worked as a pastry chef at the White House.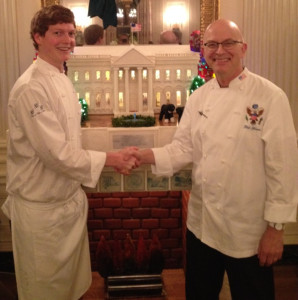 ---
Want to learn more? You can follow Sam on Twitter @culinarydiplo, or read pieces he has published in The Hague Journal of Diplomacy, Public Diplomacy Magazine, and Praxis: The Fletcher Journal of Human Security.
Questions?
Email him at culinarydiplomacy [at] gmail [dot] com.